We are glad you stopped by . . .

As we begin our eighth year of providing service, we are especially grateful to all of our clients who have entrusted us with their special events.
In 2009 we were again privileged to present numerous musical performances and programs throughout Western North Carolina. The New Year began with an especially delightful moment outside the Stable Cafe on the evening of January 2nd when our Starlight Carolers were joined by some very young guests at Biltmore Estate in singing Joy to the World.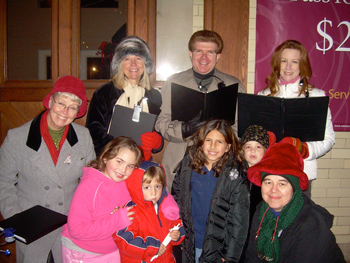 The next few days were an adventure with Mountain Dulcimer virtuoso Don Pedi. From River Bend Barn on Biltmore Estate to College Walk Retirement Community in Brevard then back to Biltmore for a private event at Lion Crest, there was plenty of music making, tale telling and laughter going on!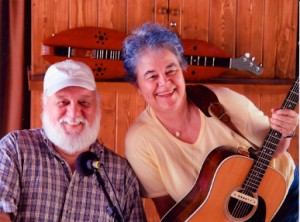 After a few measures rest to recover from the high energy events of the 2008 holiday season, KG Duo spent a lovely hour at Deerfield Epsicopal Retirement Community on Valentine's Day playing light jazz standards on piano and bass with "That's the Story of . . . that's the Glory of . . ." and rehearsals began in earnest for upcoming events!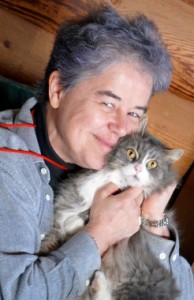 March was a whirlwind of activity with Wheels of the World and the Wild Irish Barmaids taking center stage at Kenmure Country Club, Ardenwoods and Deerfield . . . and Irish Coffee sharing a bit 'o St. Patrick's Day cheer with residents at Flesher's Fairview Rest Home.
April began with Deep River and Judy Grobe presenting Life and Love in the Wilderness: A Lenten Journey at Givens Estates . . . and continuing with Easter Trumpet Fanfares at Skyland UMC with Monte' Sorrell's Chancel Choir . . . and Gracious Light Trio back in the Winter Garden for Biltmore Estate's Festival of Flowers 2009.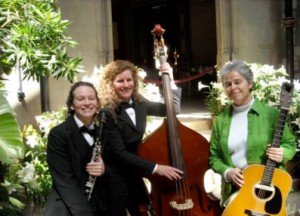 Gracious Light Duo brought Recorders to the Walled Garden and Gracious Light Brass their Trumpets and Trombones and Tuba. King brought her Guitar and an array of Recorders ~ only to look up one sunny morning directly into the camera from Fox News from Greenville SC! Her finger style rendition of Elizabeth Cotton's Freight Train was featured as background for a news feature about Biltmore Estate.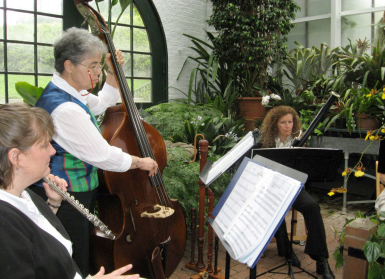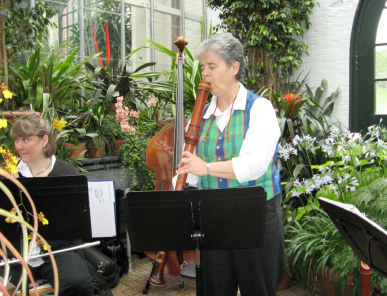 and Fletcher Community Chorus was in serious rehearsal for their amazing 60's show ~ A Hootenanny of American Folk Music!   Presented six times to varied and appreciative audiences, accompanied by Joey Moore, Percussion; Judy Grobe, Flute; Hallie Sheaffer, Clarinet; Becky Swensen, Bass; and King Goslin, Guitar, this adventure ~ and the community support it received ~ carried the Fletcher Community Chorus over the mountain of paperwork into official 501(c)3 status!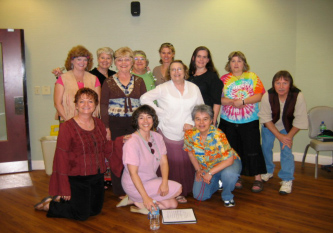 Many thanks to all who gave their all! Without the help of my long time friends and colleagues as well as dedicated volunteer singers and publicity coordinators this magic would not have been possible.
Our Grand Finale Concert at Feed and Seed in Fletcher on July 2nd was a night to remember with great tunes like "The Lion Sleeps Tonight", "Today", "Wonderful World", "Put a Little Love in Your Heart" and "Proud Mary".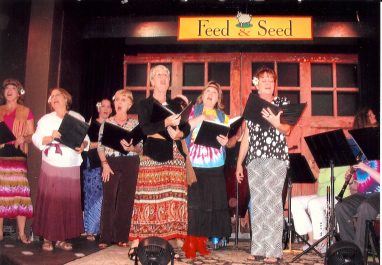 Gracious Light Brass returned to Deerfield for their annual 4th of July performance ~ King took some time off ~ and later that month joined Lap Steel Guitarist Hank Bones as Aloha Haku Mele brought a taste of Hawaii to College Walk in Brevard. Johanna Cooper made a guest appearance, sharing tales from her 35 years as a Hawaii resident.
August was spent enjoying the company of good friends and preparing for the adventures ahead. Inspired by attending the Stephen Humphries Hammered Dulcimer Concert and Workshop at Perelandra in June, King continued to enjoy teaching her own students ~ as well as giving herself the gift of studying Piano with colleague Anita Freeman ~ (who is the BEST of the best!!)

In September Fletcher Community Chorus resumed rehearsals, King joined Irish Fiddler Beanie Odell for a Celtic Sunday worship at Skyland UMC and the Oktoberfest gig books came out! However, the most lovely concert of the year was the unexpected back porch birthday serenade offered by dear friends Becky Swensen and Hallie Sheaffer.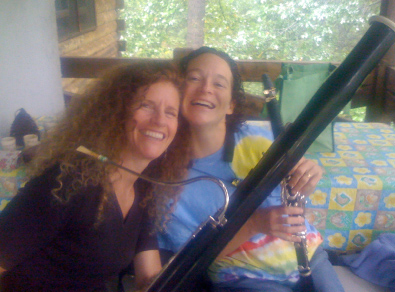 October was a blur of Freudemusik, Polka Kings, KILT, Speak Easy!, 50/50's, Solos at Biltmore Winery, Gracious Light Choral Ensemble rehearsals, WinterWood Consort's debut of Funeral March for a Marionette at our spooky Halloween gig ~ and last, but definitely not least: the advent of Gracious Light Holiday Marching Ensemble rehearsals!

Well, somehow ~ again with the help of my wonderful talented and tolerant colleagues ~ and a wild flock of adventurous singers ~ a 19 piece marching 'band' was created! Complete with Bass Drum, Scottish Field Drum, Cornet, Clarinet, Trombones, and Hand Percussion of every variety! And, Yes! ~ Marching Singers ~ with head set mics and belt amplifiers!!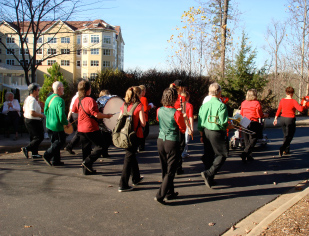 After outdoor evening rehearsals around the parking lot at Calvary Episcopal ~ and a super warm November Sunday afternoon practice run at Deerfield ~ we took to the streets of Asheville on Saturday morning November 21st as part of the Biltmore sponsored Grand Marshal contingent leading the Annual Holiday Parade!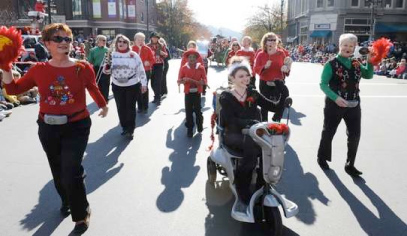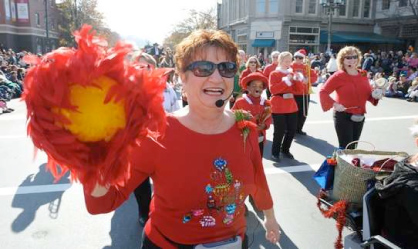 We marched UP Biltmore Avenue ~ singing and playing past the television cameras. After making the turn at Patton Avenue, the real inspiration came from our 78 year old Field Drummer Pete Tolleson. He KNEW he could do this ~ all the way to the end of the full parade route ~ so we young 50 and 60 somethings had to make it, too!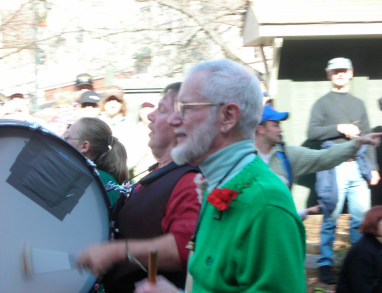 One of the great joys of this totally awesome project ~ and there were many ~ was having my childhood neighbor and Trombonist Mary (Mott) Hawthorne – who I had not seen nor had contact with since 1962(!) come from Pennslyvania and share in this adventure.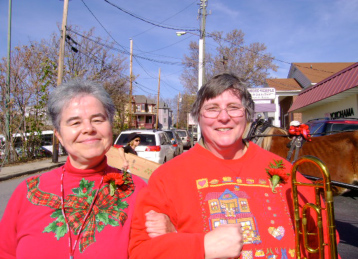 Meanwhile, all manner of solos, duos, trios and choral groups were in full performance mode as part of Biltmore Estate's Candlelight Christmas 2009.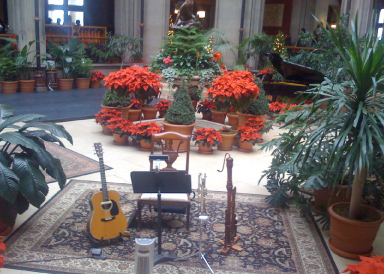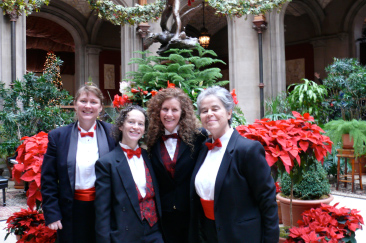 Gracious Light Duo once again provided music for the Annual Dickens Christmas in Biltmore Village.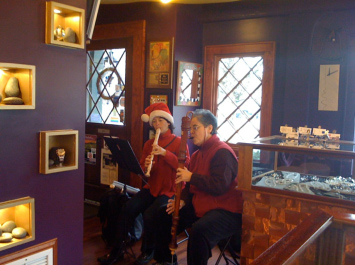 Starlight Carolers had a grand adventure performing on several occasions the Winter Garden ~ as well as sending a contingent of singers to entertain at the Asheville Country Club ~ while Appalchian Folk Choir once again donned their traditional bonnets and took Old Time Appalachian Christmas songs to the lobby of the new Grand Bohemian Hotel in Biltmore Village.
The intense snowfall in Western North Carolina on Dec. 18 created a most unusual and unexpected change of events at Biltmore Winery on Dec. 19th. At the last minute, Starlight Carolers Mary Farnsworth, Susan Downs and Judy Grobe joined King to entertain guests in the half light of NO ELECTRICITY! Surely a day not to be forgotten . . . it was perfect!
Especially fulfilling – and deeply meaningful – has been the time spent with those who reside in assisted living centers. Without fail, however much we brought, we came home with more . . . more love, more old songs they would share and teach, more knowing about why it is so important to make music and take it where it is most needed.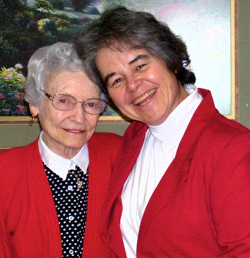 It was a good year with much for which to be thankful! We look forward to many more adventures with good friends and new clients in the exciting year ahead!
We hope you enjoy exploring our web site and find something that might be just right for your next event. We all look forward to serving your needs, charming your guests and exceeding your expectations.