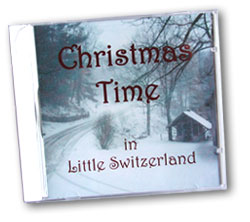 How "Kilohana Christmas" became "Christmas Time in Little Switzerland"
text credit – Johanna Logan Cooper
Like many Little Switzerland residents, M. King Goslin spent many Christmases elsewhere before finding home to be on the mountains of North Carolina. Nine of those years were in Hawaii and what is more important to this story, the last eight months of that time were lived alone in a remote and special place on the Island of Hawaii called 'Kilohana'…a word which means…'a high place…a lookout…the best'. It was there—-high on a mountain in the shade of pine trees and silence— that she and guitarist Noa Kristi created "Kilohana Christmas."
In the spring of 1992, in a small recording studio located in the middle of coffee fields above Captain Cook on the Kona Coast of Hawaii, "Kilohana Christmas" was recorded and was released on cassette. Organizers for the 1992 Big Island Slack Key Guitar Festival heard the recording and invited King and Noa to perform at the festival.
Shortly thereafter, a move to the coast of North Carolina resulted in the founding of Morning Star Music with musician and composer, Jo Ann Logan Cooper. A visit to the North Carolina Mountains prompted research to begin for a new home for Morning Star Music. The special place that was found was Little Switzerland.
The wonderful and varied music of the mountains was also to be found here. It was in the sound of the mountain dulcimer resonating with the sound of the two acoustic guitars in their Hawaiian slack-key tuning that brought "Kilohana Christmas" home to these mountains. These beautiful instrumental arrangements of traditional Christmas music, recorded on a mountain in another part of the world, are reminiscent of the hauntingly beautiful mountain dulcimer music of Appalachia. We know this place truly to be our Kilohana. We invite your to sit back…relax…listen…and remember…A high point…a lookout…the best…
" Christmas Time in Little Switzerland"
Traditional Christmas music performed by 2 acoustic guitars in open tuning… hauntingly beautiful arrangements… all instrumental.
Tracks:
O Come All Ye Faithful
Journey of the Kings
Bethlehem Hey Ho
Away in a Manger
Silent Night
Carol of the Drum
Good King Wencelas
Bring a Touch
Joy to the World
Deck the Halls
Jingle Bells
God Rest Ye Merry