A Sacred Journey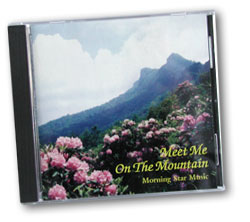 When we first heard the call of the Blue Ridge Mountains in August 1993, we never could have imagined the treasure that was waiting . . . who else was being called from other places . . . who would be there to meet us on the mountain.
After finding Little Switzerland in August 1996, the tune to "Meet Me on the Mountain" began to evolve. It was also then we had our first encounter with bagpipes and the beautiful and haunting melody to "Highland Cathedral".
Within the year we moved to the mountains, met Jim Laughridge and heard his Blue Ridge Brass and Pipes and attended our first Grandfather Mountain Highland Games. Through Jim's encouragement, we submitted an audition tape to perform at the games the following year.
"Meet Me on the Mountain" was released in July 1998 when King and Johanna, performing as Morning Star, presented Johanna's beautiful title song in the opening ceremonies of the Grandfather Mountain Highland Games.
Somehow, life is always ready to give us more than we can imagine. Unbeknownst to us, many hearts were hungry to receive this album of sensitively rendered Scottish folk songs. We were unprepared for the praises that came forth. More than one listener said "this is now my favorite CD".
We were awed. It was our first effort at recording and had required more than we knew we were capable of doing and becoming. Yet, through our willingness to undergo what at first seemed nearly impossible, we had encountered exactly the right people and circumstances to give birth to "Meet Me on the Mountain".
"Meet Me on the Mountain" is an album about the quiet depths of love . . . places we all know and seldom mention.
Love . . . and connection to the land
Love . . . and longing for the beloved
Love . . . and pain for that which is broken
Love . . . and delight for the sacred journey
of which we are all a part . . .
and all at the beginning
Now is the time to listen. Now is the time to enjoy.
It is with much love and gratitude that we offer
"Meet Me on the Mountain"
Meet Me on the Mountain
Scottish folk songs… mellow listening or background music… guitar, vocal, fluegelhorn, bass, bagpipe and recorders.
Tracks:
Auld Lang Syne – sound clip
The Dark Island
Meet Me on the Mountain – sound clip
The Water Is Wide
Ye Banks and Braes
On We Go
Medley: Will Ye No' Come Back Again?
Follow the Pipers
These Are My Mountains
Wild Mountain Thyme
Highland Cathedral